Home
»
Uncategorized
» "Crossing Borders: From Mexico to U.S." on Hearing Voices radio program
"Crossing Borders: From Mexico to U.S." on Hearing Voices radio program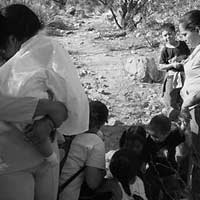 I was driving last weekend when I came across this Hearing Voices radio program on KABF.  "Crossing Borders: From Mexico to U.S," originally aired in 2008.  A tale of what immigrants face attempting to cross the border, the program is still just as relevant today in 2012.  This program, like all of the productions by Hearing Voices, is a mixture of so-called "driveway moments" gathered from various broadcasts and recordings and then interwoven to tell a somewhat parallel story.  Luis Alberto Urrea's readings are particularly disarming and vivid, especially the endless repetition of "Vatos," which becomes hypnotic with rhythm and stories of loss.
From the Hearing Voices synopsis:
In "Sasabe," a Sonora, Mexico border town, Scott Carrier talks to immigrants on their hazardous, illegal desert crossing, and to the border patrol waiting for them in Sasabe, Arizona.
Luis Alberto Urrea reads from his books Vatos and The Devil's Highway, about death in the desert.
Guillermo Gómez-Peña imagines "Maquiladoras of the Future," fantasy border factories.
"And I walked…", by Ann Heppermann and Kara Oehler, is a sound-portrait of Mexicans who risk their lives to find better-paying jobs in the United States.
And sounds from the Quiet American's one-minute vacation.
Click here to visit the page and listen to the piece.  
Related Posts